Clinically Proven
"Biologists have found that cells exposed to near-infrared light from LEDs, which is energy just outside the visible range, grow 150 to 200 percent faster than cells not stimulated by such light. The light arrays increase energy inside cells that speed up the healing process."
Dr. Whelan
 "Significant reductions of wrinkles (maximum: 36%) and increases of skin elasticity (maximum: 19%)"
Lee SY, Park KH, Choi JW, Kwon JK, Lee DR, Shin MS, Lee JS, You CE, Park MY.
"A statistically significant improvement in wrinkles was seen after profilometric analysis. The majority of subjects reported improvements in softness, smoothness, and firmness at all time points. Electron microscopic analysis showed evidence of post-LED treatment of thicker collagen fibbers."
Goldberg DJ, Amin S, Russell BA, Phelps R, Kellett N, Reilly LA
"The results support the effectiveness of using blue-light LED therapy on a daily basis for better improvement and faster resolution of inflammatory acne lesions."
Gold MH, Sensing W, Biron JA.
How strong is the light, how effective?
The diodes we use have 3 chips per LED light. This is in contrast to the imitation products that are for sale that do not use 3-chips per bulb. There are 66 LED lights with 3 chips each so we effectively use 198 diodes so the mask works so fast and strong. In addition, there are 20 infrared diodes so that the number of usable LEDs rises to 218 LEDs. A technical story but the bottomline is: more diodes, more effect. So buy the real thing!

Are you the official Brand holder?
Yes, we are the Aduro® Official Brand owner and sell the original product. Don't be deceived by imitations or websites claiming to sell the real thing. You are now on the official Aduro website, we ship every 4hours and we deliver worldwide for free. Any questions left, please contact us right away.
How Long - How Often?
For the best result, it is advisable to repeat 1 treatment of the face mask every other day, each time for 20 minutes using the built-in timer. Of course you can choose to use the mask for less than 20 minutes at a time. The LED light is proven safe and does not damage or tan your skin. LED light does not contain UV radiation.
How does the Aduro mask work?
The Aduro facial masks use special light that is packed full of energy in the form of photons, and when shined onto the skin these photons penetrate to certain levels of body tissue. These photons then transfer their energy into a form that the body can use called 'cellular ATP (adenosine triphosphate) energy' and increase blood flow by the signalling of Nitric Oxide. ATP is the body's fuel for energy. The more energy we have, the more the body can use this energy for proper function, such as repair and rejuvenation. Super-charged cells from exposure to the Aduro light masks then prompt skin fibroblasts to produce increased collagen, elastin proteins and stimulate the body's natural healing and rejuvenating processes, while increased blood flow brings in more blood and nutrients to the area.
What can the Aduro 7+1 facial mask treat?
Anti-ageing – Fine lines and wrinkles are reduced with the increased production of collagen and elastin.
Anti-acne – Studies have shown that blue light speeds up recovery time of acne breakouts, giving skin a fighting solution to acne.
Even skin tones – Helps even skin complexion for naturally beautiful skin.
Reduce redness – Alleviates Inflammation, sunburns and rosacea.
Revitalization – Promotes a brighter glow for more radiant skin.
Soothing – Supports in reducing the size of swollen capillaries.
Cell rejuvenation – Alleviates Inflammation, sunburns and rosacea.
Skin balancing – Helps break down deposits of melanin within the skin and age spots, for even and more youthful looking skin.
Increases hydration – Increased blood flow brings more blood and nutrients to the area, for more hydrated and glowing looking skin.
Is the Light safe?
The treatment is pain-free, non-invasive, and is completely safe for all skin types. We recommend to first test the mask for 5 minutes in a less visible place to test for light sensitivity. If this is not the case, the mask can be used on the face. The light does not emit dangerous UVA or UVA radiation. No lasers are used. This allows the treatment to be carried out without intermediate periods. The light is not harmful to the eyes. The light can be experienced as fierce. Therefore it is advisable to close the eyes or use the goggles we include during the treatment. Light therapy is medically recognized and clinically proven through independent studies in a period of 40 years. Aduro is made for skin repair and will not darken the skin.
Is the light harmful to the eyes and body?
The treatment is pain free, non-invasive, requires no surgery and is a completely safe and effective treatment for all skin types. The light does not emit any harmful UVA or UVB rays and is not a laser, which means that users require zero downtime or recovery time after a treatment. The light is not harmful for the eyes. The light can be experienced as bright. Therefore we recommend to close the eyes during the treatment. Light therapy is medically recognised and is clinically proven, with independent studies of over 40 years of scientific research and support. The Aduro is for skin rejuvenation; it will not darken or tan the skin.
Mask vs Supplements?
What is the difference between Aduro anti-ageing Collagen stimulation and taking Collagen supplements?
The Aduro facial masks kick start the body to naturally produce new collagen and is clinically proven and medically recognized.
Collagen supplements may not work as desired because they are incapable of absorbing themselves in the complex matrix of collagen that exists in our body.
Collagen is taken by a lot of people to strengthen bones and tendons, while some users taking them for younger looking skin.
What does an LED mask do for your face?
What is a LED Light Therapy Face Mask? LED facial masks use color lighttherapy (UV-free) in specific wavelengths via tiny LED bulbs to increase facial blood circulation and promote collagen production, skin healing and acne reduction.
What is LED light therapy for face?
An LED facial, aka Color Light Therapy, uses four clinically proven wavelengths of UV-free LED lights that boost collagen production and treat existing acne.
What does light therapy do for your skin?
LED light therapy is a painless, relaxing, non-invasive skin-care treatment that has multiple benefits—particularly stimulating collagen and treating mild to moderate acne. … Blue light LED works by killing Propionibacterium acnes, the bacteria that lives below the surface of the skin and is responsible for acne.
What is LED face mask?
The light energy used in a LED Face Mask is gentle, controlled, heat free, and absent of harmful UV light. The FDA has approved the LED Face Mask as a safe and efficient light therapy used to treat acne and rejuvenate skin.
How does infrared light heal?
This unique treatment harnesses the healing power of specific wavelengths of light. When infrared energy is delivered to injury sites and other painful areas, it dramatically increases circulation, reduces inflammation, and promotes healing. … Treatment with infrared light therapy is simple and painless.
Does red light therapy help hair growth?
It doesn't have to be a laser device, as long as it operates and emits the necessary wavelength of red light, it will aid in hair growth. Red light is absorbed by the hairfollicles and can stimulate the growth of hair.
How to use the Aduro facial mask?
The Aduro facial mask requires the user to first clean and prepare the skin. Once the skin has been cleansed the user can apply their favourite cosmetics to their face prior to treatment. When ready simply turn on the Aduro facial mask and fasten the head straps for a preferred position.
How long does a home treatment last?
An Aduro home treatment recommended to be used for 20 minutes, 1 – 5 times a week for optimal results.
What are the benefits of the Aduro facial mask?
The Aduro facial mask is a safe and natural treatment, which has a vast range of benefits to the skin. Benefits include the improvement of skin tone, reduction in fine lines, wrinkles and age spots. The results are that aged skin is firmed, rejuvenated and more even – for younger looking, rejuvenated skin.
No pain and no chemicals
Increases the production of collagen and elastin fibres
Firms aged and tired skin
Smoothes the skin and reduces wrinkles
Smoothes the skin and reduces cellulite deposits
More even skin coloration and complexion
Increases moisture retention
No negative side effects or harm
Increases the body's natural rejuvenating processes
What should I expect from an Aduro treatment?
The treatment lasts for 20 minutes, with results mostly being felt from the first session. Treatments are relaxing and users will experience a warm rejuvenating feeling, with skin feeling and looking more hydrated and even. Repeated use of the Aduro will increase the desired effect, with an increase collagen production and the bodys natural rejuvenation processes – resulting in youthful looking skin and overall improvement of skin complexion. A course of 12 treatments is recommended, with increased usage proving better results. Treatments with the combination cosmetics are recommended, for the best Aduro experience.
Can I use cosmetics with a treatment?
The Aduro facial masks are designed to be used with your favourite cosmetics.
Why does our skin age?
As we get older we lose the amount of Collagen and Hyaluronic acid within the skin. The loss of these components in the skin makes the skin susceptible to damage and wrinkling. By restoring the Collagen and Hyaluronic acid within the skin, the body is able to restore hydration, strength and reduce signs of ageing.
Will the mask hurt or burn the skin?
The Aduro operates at "2°C above ambient" which is a perfect for feeling relaxed, comfortable and opening the pores to the skin. It will not burn anyone's skin.
At what nanometers and frequencies does the light emit?
Red light (630-633 nm.) Blue light (415 nm.) Green light t (505-555 nm) Yellow light (590 nm.) Orange light (590 nm.) Purple light (600 nm.) Cyan light (470 nm.).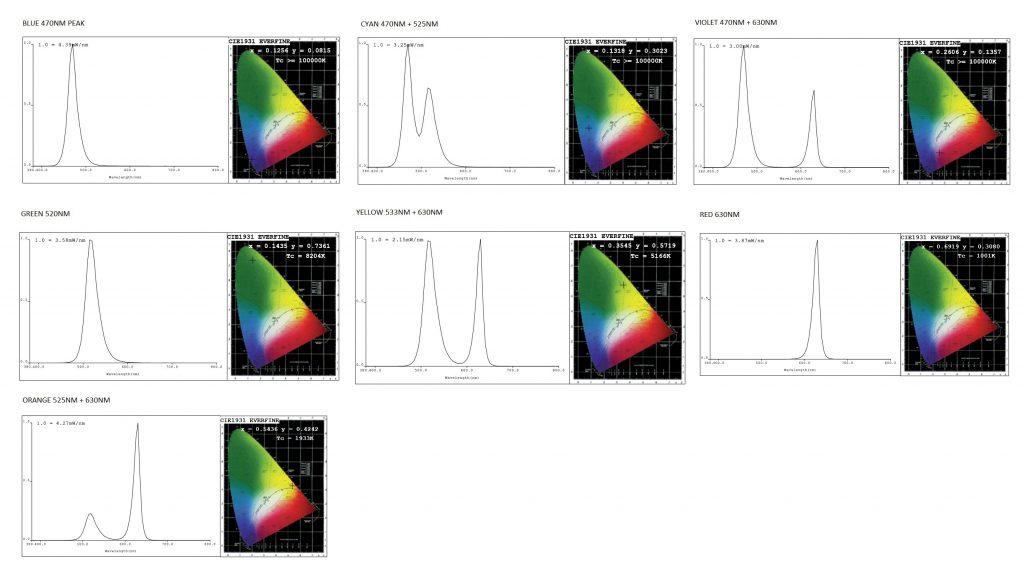 What does red LED light do for skin?
Blue light is generally used to kill the bacteria that causes acne, providing an effective treatment for blackheads and whiteheads, whereas wavelengths of red light are normally used to speed up healing and stimulate collagen production, simultaneously shrinking enlarged pores and tightening the skin.
What does green LED light do for skin?
Green light is absorbed into the skin where it has a calming effect. … Green lighttherapy is used to treat dilated capillaries, sagging skin around the eyes, under eye circles, hyperpigmentation and sun spots. Its calming nature can be used in combination with other light therapy to further rejuvenate the skin.
Does red light therapy help hyperpigmentation?
Red Light Therapy for Pigmentation. Red light seems to prevent hyperpigmentation after sun exposure, reducing the skin inflammation (sunburn or erythema) in an effect equivalent to SPF 15. … Since it helps our skin cells to make energy, it supports their normal function.
Is red light therapy dangerous?
Red Light Therapy Side Effects. Red light therapy is considered to be a safe and well-tolerated therapy for the relief of symptoms of multiple conditions. … Unlike using salon tanning beds, red light therapy does not utilize harmful ultraviolet (UV) light which can damage skin and cause cells to mutate
Where do you ship from?
Where do you ship from?
As we deliver worldwide for free we have warehouses located at strategic locations around the world. We supply these warehouses based on historical trackrecords so we can ship the fastest and most efficient way. When one of our warehouses is temporarily out of stock we ship from the nearest warehouse. 
English Manual Aduro Led Mask
Frequently Asked Questions.
Here are some common questions about Aduro LED Masks. In case your question isn't listed here please contact our customer service. They are there to help you.